Written by FFIWA_webmaster
Published: 13 Jul 2019
Amongst the range of trophies handed out at the State Championships in Esperance was the President's award which goes to a sailor or sailors who have ticked a lot of the boxes relating to involvement and competitiveness even if that hasn't manifested (yet) at the top of the results list.
This year the President, Muddy, presented his award to David and Mary-Anne Reid who sail Double Nickel from South of Perth Yacht Club.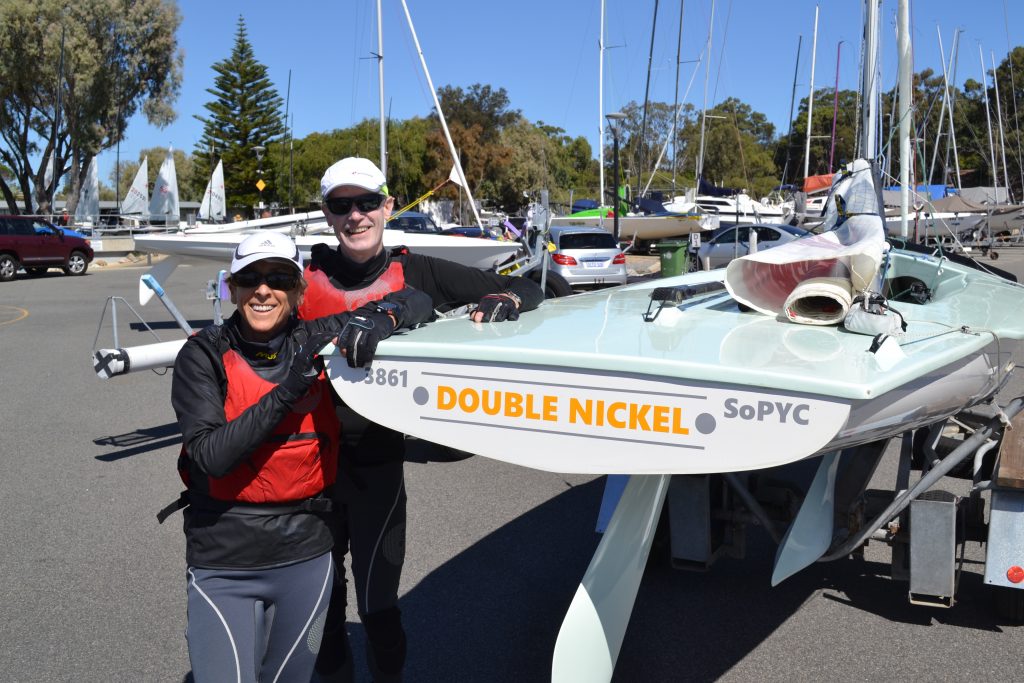 David and Mary-Anne have just finished their first summer season sailing at South of Perth in the Flying Fifteen fleet. David brings a fair bit of sailing knowledge having grown up in the regional area of northern Tasmania and spending his early sailing years at the Wynyard Yacht Club which has Bass Strait as its course area. Classes included the P-class and Cherubs. Mary-Anne also hails from the same area of Tasmania but had never sailed until now. With children grown and looking for an activity they could enjoy together, she is on a particularly steep learning curve in a class that can be quite intense and has a lot of strange strings to pull.
Both completed university in Victoria, David in Engineering (and later a PhD)  and Mary-Anne in Music before departing for a couple of years in the UK with new born twins.
The late 1990's saw the Reids settle in Western Australia with David having taken up a role of with Woodside where he continues to work as a Development Manager. Mary-Anne has worked as Executive Assistant to a number of state and federal politicians and for the last 5 years has worked in the disabilities sector.
The Reids live in Gooseberry Hill, interestingly, in a street named after the late John "Tally" Hobbs who was responsible for the introduction of the Flying Fifteen to Western Australia.
The fresher breezes in the early part of the season probably didn't suit a team new to the class and sailing in general, but with the advent of twin pole systems to improve spinnaker handling, the mechanics of getting a boat around the course becomes less of a chore.
Other new-comers to the Flying Fifteen fleet last season included Terry Newby, who purchased Eagle Eye and won the consistency trophy at Esperance, Dave Roberts, who bought Deffcon1 from Canberra, and Andrew Colhoun in Running Free who has been sailing with Paul Howard.