Written by FFIWA
Published: 06 Mar 2017
The 21st Flying Fifteen World Championships have been run and won by Steve Goacher and Tim Harper from Great Britain.  Nick and Janet Jerwood briefly held the trophy but it was snatched from their grasp after a protest from the British pair was upheld.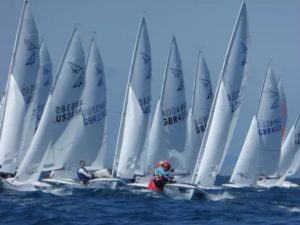 The series was held in generally light and very shifty conditions (the words "mysterious" and "treacherous" can also be used) which made for some difficult days on the water for a lot of the fleet. However the top 2 boats in particular showed their class to find ways to keep their scores low over the entire regatta. For a full report of the final day see Jonny Fullerton's story
here
.
Top 10
1 GBR 4021 Steve Goacher / Tim Harper - 19,8,1,1,2,1,(20) = 32pts 2 AUS 3986 Nick Jerwood / Janet Jerwood - 5,2,8,(20),1,2,DSQ/58 = 38pts 3 NZL 3840 Murray Gilbert / Jonathan Burgess - (32),9,6,13,5,6,5 = 44pts 4 GBR 4004 Charles Apthorp / Alan Green - 6,(53),14,2,15,3,7 = 47pts 5 AUS 3684 Matthew Owen / Andrew Reed - 2,4,7,9,12,(24),13 = 47pts 6 NZL 3091 Hayden Percy / Scott Pedersen - 1,6,22,5,(25),5,9 = 48pts 7 GBR 3760 Jeremy Davy / Martin Huett - 9,5,10,7,(16),DSQ/58,1,= 48pts 8 GBR 4030 Greg Wells / Richard Rigg - 4,14,15,(24),11,4,2 = 50pts 9 HKG 3972 Ashley Smith / Adam Kingston - 14,(35),4,6,4,16,11 = 55pts 10 NZL 3739 Aaron Goodmanson / Alister Rowlands - (18),3,13,17,7,1,6 = 57pts
Other FFIWA boats
: 11 AUS3859 David Yu/Chris Nelson 59pts 17 AUS3989 John Wilson/Matt Summers 103 pts 22 AUS3742 Greg Tonnison/Andrew Jackson 124pts 26 AUS3775 Philippa Packer/Dean McAullay 140pts 30 AUS3855 Peter Rooke/Martin Arrowsmith 144pts 31 AUS4053 David Swann/Matthew Elliot 145pts 33 AUS3992 Greg Leaversuch/Bad Boy 153pts 35 AUS3619 Ron Packer/Steve Ward 163pts 39 AUS3964 Simon Lucas/Aileen Lucas 211pts 44 AUS3800 Mark Gooding/Michael Gooding 234pts 47 AUS3991 John Midolo/Gordon Roe 265pts 51 AUS3856 John Wallace/Stewart Wallace 284pts