Written by FFIWA_webmaster
Published: 04 Aug 2015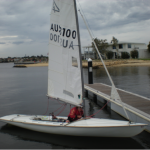 The Flying Fifteen International Association recognises the value in maintaining an active section for classics and silver boats. These boats are a cost effective entry into the class and provide excellent racing at club, national or world level. Well maintained older boats tend to hold their value well and can often be sold for little or no loss. The open class of Flying Fifteen is tightly controlled around the hull shape, providing close and consistent racing. When Uffa Fox originally conceived the boat it was available to be built by anyone, whether at home or professionally, with generous tolerances. Flexibility was allowed with a variation of materials used. Despite the variances, boats generally raced competitively together in all conditions. In the 1970s, designer and builder Roy Windebank began looking at the rules to exploit the tolerances for extra performance in a more consistent way. Boats from his Mark 2 and 3 moulds began to be noticed as regular performers against other designs. The step change came around sail number 2700 with the introduction of the Mark 4 mould. Maximising the waterline length and width within the rules allowed the boat to plane earlier and offer more stability and sitting out power compared to earlier boats with narrower waterlines and more rocker. The performance difference of the Mark 4 is such that the definition of the Classic Fleet is for boats below sail number 2700, there are sail numbers allocated higher than 2700 using the old shape hull.
For Flying Fifteens with a sail number between 2701 and 3400 (or modified boats below 2700) can sail in the Silver fleet. FFI has established a lower cut off of 3200 for World and European Championship events. At the Australian National Championships the Silvers compete for the J.A.T. "Tally" Hobbs Trophy, and FFI-WA have trophies for Silvers at the State Championship. The Classics compete for the Anniversary Trophy, and FFI-WA trophies for Classics at the State Championship. Most open events and club racing have prizes for silver and classic boats racing with the open fleet. Do not believe an older boat is slower, the classics and silvers often sail competitively against newer boats and still win open races outright. Why not be a part of the silver or classic fleet, we have a number of boats waiting to be sailed for the summer season.
Comments Off

on Sailing a silver or classic boat