Written by FFIWA_webmaster
Published: 07 Jan 2015
With none of the meteorological theatrics of yesterday, the waters off Sandgate delivered perfect Flying Fifteen sailing conditions with the first heat starting in a south easterly of just under 20 knots and a 1 metre swell. The wind and seas softened throughout the day to be about 10 knots by the conclusion of racing.
Ff sake
(Ashley Smith and Adam Kingston) from Queensland won both races to be in a strong position at the mid point of the regatta. Rookie and Morton (
Fflashpoint
) answered the question "What's in a mast?" by stepping in a replacement stick without the help of measuring tape or tuning guide and scoring a second and a fifth for the day. Not to be outdone, John and Deanna (
Fast Lane 4
) finished second in the second race after challenging for the lead earlier on. They were ninth in the first race.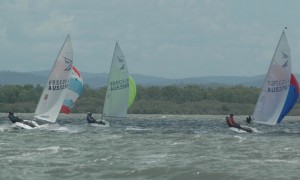 Eagle Eye
(Karen and Russell) were the first silver boat in both races and were seventh and ninth in the open fleet. Formally of the Western Australian fleet,
Happy Days
(2825) continues to perform well for new owners Ariane and Duncan Ritchie from Queensland.
Races start 30 minutes later each day to allow boats to be retrieved well before low tide in Cabbage Tree Creek. Racing resumes on Friday at 1200hrs.
Check out the results
with some fierce competition starting to emerge between boats. A
few more photos
from Sandgate...