Written by FFIWA_webmaster
Published: 25 Nov 2018
The Flying Fifteen fleet from Royal Freshwater Bay YC and South of Perth YC joined forces for the Tally Hobbs Regatta held on Swan River over the weekend of 17 – 18 November. The regatta attracted 16 boats racing a 6 race series in ideal light to moderate winds.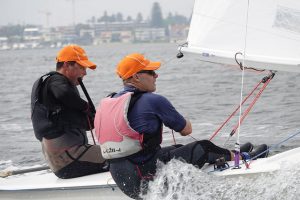 Racing kicked off on Saturday afternoon with 3 races held using windward/leeward courses on quite a tight race course in Freshwater Bay in front of the Royal Freshwater Bay YC clubhouse in a cool S/SW breeze. Two former world champions racing in different boats got caught out in race one by being called OCS. They were Dean McAullay crewing for Philippa Packer and Grant Alderson with Evan Moore as crew. This allowed Hamish Carnachan and Peter Mudford (RFBYC) to chalk up their first win from Emily and Kristine Pettersson (SoPYC) a well sailed 2nd. In the shifty breezes choice of sides upwind became crucial and there were many place changes up and down the fleet. In race 2, Hamish Carnachan & Peter Mudford again worked to the front this time followed by Karen and Russell Dawes (SoPYC) with Bobby Salmond over from Scotland sailing with Richard Blaquiere having a great race to finish in 3rd. The final race on Saturday turned up another change, this time the Carnachan/Mudford combo were judged to be OCS and the race win went to Grant Alderson and Evan Moore (RFBYC) back in the groove after two bad results. Proving that the last result was not a fluke Bobby Salmond and Richard Blaquiere went one better with a 2nd and Philippa Packer and Dean McAullay (RFBYC) back in the chocolates in 3rd. Day 2 of the regatta was h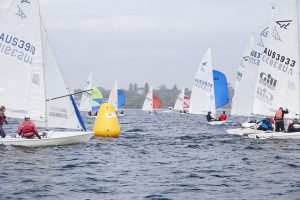 eld on Melville Waters, another part of the Swan River with more room for bigger courses and slightly more breeze 12 – 15 knots. The cool sea breeze teased competitors with regular oscillating shifts. Grant Alderson and Evan Moore started where they left off on Saturday with a race win in race 4 from a rapidly improving David Yu and Chris Nelson (RFBYC) with Hamish Carnachan and Peter Mudford back on the podium in 3rd. The penultimate race was a game of two halves depending on what side of the course you chose. David Yu/Chris Nelson and Hamish Carnachan/Peter Mudford tacked over to the usually unfavoured right side leaving the rest of the fleet heading out left. When they reached the top mark these two boats had a huge lead. They were attacking each other down the run but still rounded the gate with about half a leg lead over the fleet. David Yu/Chris Nelson held off the challengers until the last leg when Hamish Carnachan/Peter Mudford got through to take their 3rd win of the series. 3rd again was Philippa Packer and Dean McAullay. The final race was held in the building lunchtime sea breeze from the more regular S/SW direction. The fleet were a lot more compact this time and places were traded amongst the leaders on each lap but coming home first was the familiar spinnaker of Hamish Carnachan and Peter Mudford to take the gun and the series. Second in the last race was Greg Leaversuch and Peter Barblett (RFBYC) and 3rd Grant Alderson and Evan Moore.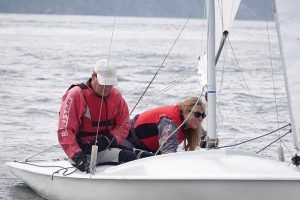 This meant that Hamish Carnachan and Peter Mudford were clear winners with 7 points from 6 races with one discard. David Yu and Chris Nelson moved up to 2nd overall with 20 points by sailing much better on Sunday, and Grant Alderson and Evan Moore took 3rd on count back with 20 points. Full results are on the
RFBYC website
More photos can be viewed on Flickr (
Day 1
) and (
Day 2
). Thanks to Jonny Fullerton for the words and to George Vaskovics for the photos.