Written by FFIWA_webmaster
Published: 09 Mar 2019
Spending the Labour Day weekend at the Mandurah Offshore Fishing and Sailing Club is quickly becoming the trigger point in the season where the post-Christmas/Nationals period has finished ( it takes a while for some of us to get our heads around normal life!) and the "you better start getting ready for the States" period. A smaller than expected fleet of 7 boats figured this out and enjoyed the pristine open ocean with a biggish breeze on Saturday and a tricky easterly come moderate sea breeze on Sunday.
Nothing was too much trouble for Race Officer Ross Davidson as evidenced by the course being decided by popular vote at the briefing while most of us chowed down on the legendary hamburgers produced by the club canteen.

Out on the water, Hamish and Muddy ( Neffarius ) got quickly down to business by winning both races by handy margins. Second Breakffast (Karen and Russell) were second in the first race with Aussie Way ( Kim and Neil) third. Kim and Neil were then second in the second race with Clive and Margo ( Sedna ) third.

Day 2 , 3 races and the arrival of Ineffable ( Nic Jerwood with trainee crew, Brad Sheridan) had an immediate impact on the results sheet winning races 3 and 5 and coming second in race 4. Neffarius won race 4 and the rest of the minor places were shared by Aussie Way, Sedna and Second Breakffast.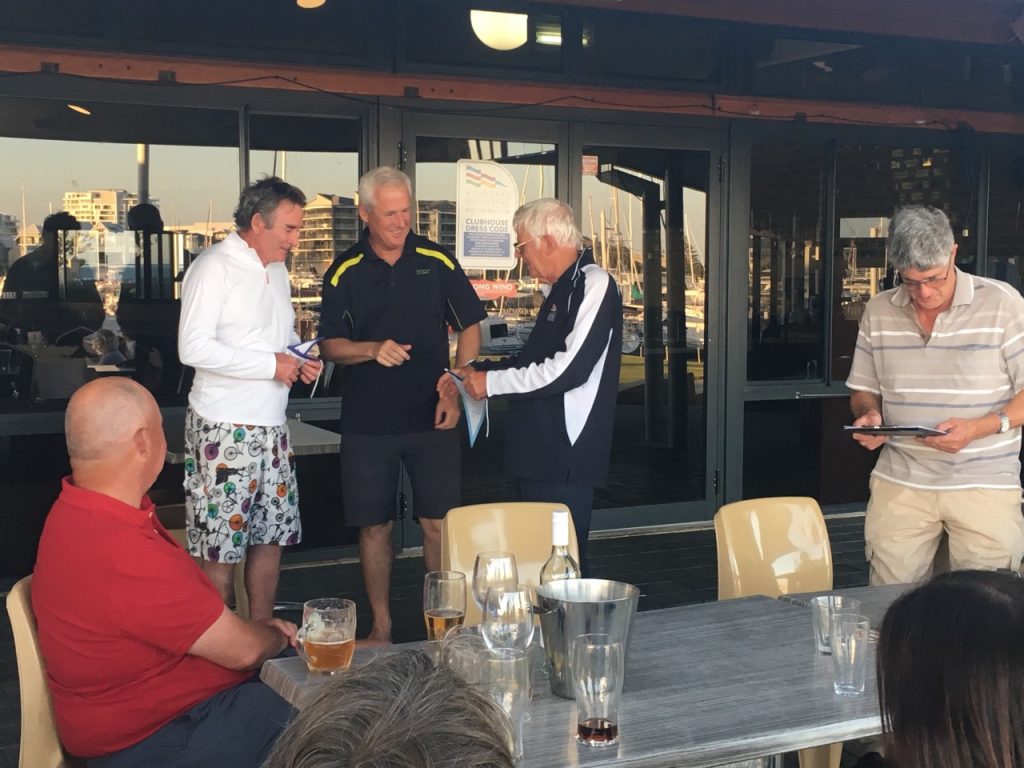 Overall, Neffarius were declared the winners with Ineffable second on a countback from Aussie Way. Our photo shows Hamish and Muddy being presented with the winner's pennants by Ross Davidson.

Our thanks to the Mandurah Offshore Fishing and Sailing Club, Ross Davidson and his team and to Rita Nesdale, Doug Cowie and Jen Sims for their parts in the on water team.

Thanks also to Lisa Williams for the photo