Written by FFIWA
Published: 27 Feb 2017
A fleet of 57 boats lined up for day 1 of the 21st Flying Fifteen World Championship being held in Napier, New Zealand.  It was a grey day with light, oscillating breeze that made for fair sailing.  A great day for the Australians with FFIWA President and Secretary David Yu and Chris Nelson securing a third and first to lead the regatta at the close of day one. Matthew Owen and Andrew Reed were also steady to finish the day in second place with a second and a fourth and Janet and Nick Jerwood close behind in fourth with a fifth and second.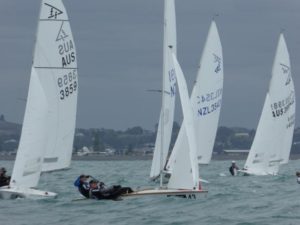 Johnny Fullerton has more of the story
here
.
Provisional Results (Top six of 57 entries, after two races)
1 AUS 3859 David Yu / Chris Nelson - 3,1 - 4pts 2 AUS 3684 Matthew Owen / Andrew Reed - 2,4 = 6pts 3 NZL 3091 Hayden Percy / Scott Pedersen - 1,6 = 7pts 4 AUS 3986 Nick Jerwood / Janet Jerwood - 5,2 - 7pts 5 GBR 3760 Jeremy Davy / Martin Huett - 9,5 = 14pts 6 GBR 4005 David McKee / Mal Hartland - 7,10 = 17pts Image © Jonny Fullerton