Written by FFIWA_webmaster
Published: 18 Mar 2015
The Esperance Bay Yacht Club will be expecting over 30 boats to arrive in Esperance on Thursday 2 April for the Western Australian F15 State Championship. Boats will travel from GYC, RFBYC, SoPYC and PRYC to attend the championship and hospitality of EBYC.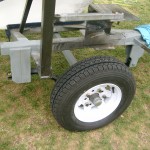 Boats from Geraldton will travel 1,116 km a 13 hour drive and metropolitan boats will make the trip of  721 km a 9 hour drive.  A few things to remember for your trip:
check your wheel bearings and spare trailer tyre
spare globes for your tow bar
take your grease gun
travel in convoy with another boat
pack your boat balanced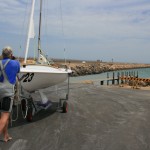 When driving remember you need a bigger space to merge into traffic and if you are overtaking, you will need a lot more space to overtake in. To avoid jackknifing make sure your trailer hitch fits correctly, the weight in the boat is evenly distributed on the boat and keep to the speed limit. If you drive at less than the speed limit, be considerate of other drivers and allow them to get past you safely. See you in Esperance.