Written by FFIWA_webmaster
Published: 30 Jul 2015
F15ers and friends, It is a my very sad duty to advise you that Chris Hall, a long time Flying Fifteener from Victoria, passed away on the weekend suddenly. Many of you may have met Chris at the WA 50th National Championship, he also sailed with Jen Sims in Sandgate Nationals and then secured John Randall, Sue Thompson's son as his more recent crew.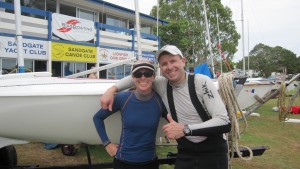 Chris had an infectious smile and a chatty personality to go with it, he was passionate about making his boat go faster and was always ready to give lots of help and support to others. For those who attended National events would have met Chris in the boat park having a chat. Chris supported the fleet with purchasing many boats, if he couldn't make it go any faster he'd search Australia and Britain and find another boat to purchase. 
Our thoughts are with Chris's family, Kirsten and Emily at this time. A funeral for Chris will be this Friday 31 July at Ballarat and will be attended by many from the Victorian fleet. Chris's family has requested no flowers and for friends to donate to 'Beyond Blue'. Keep
Sailing Fast
Chris. Jen Sims Vice President FFI-WA